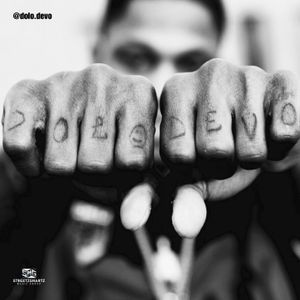 About
DOLO DEVO 
Age 27  •  Rap Artist, Superstar  •  Charlotte, NC  
Dolo Devo, is native of Charlotte North Carolina, who started his career as an hip hop artist, at the ripe young age of 14.  
He has been surrounded by music his entire life. His father was a hiphop artist who performed in local groups with other artist from around the Charlotte area. He was influenced by his father's career as a hip hop artist, due to him spending a great deal of time in the studio as a kid.  
Dolo Devo had his first musical awakening when he crafted his first EP, My Story Real, at the age of 23 (2018) with StreetzSmartz Music Group. 
After taking a brief moment to re-evaluate his career path, Dolo Devo decided he was ready to get back to his passion as a hip hop artist. It was then that he had his second musical awakening, and took everything he had learned over the years and implemented it. 
His greatly anticipated EP, titled Problem Child is a cohesive concept driven by a well-produced fusion of all of his past experiences and perceptions. Problem Child, which  is out now, featuring his latest single "Straight Neck" and is available on all streaming platforms now!  
"

He's a superstar!"
— Birdman Williams - CEO Cash Money Records
"

🌪🌪🌪🌪🌪🌪🌪"
— Da Baby - Music Artist, CEO BDB
"

You're up next young bruh!"
— Anthony Hamiton - Singer, Songwriter & Actor